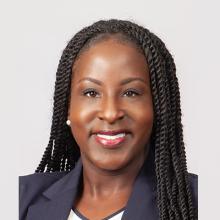 Andria McMichael, Ed.D.
Senior Vice President of Early Learning

As Vice President of Early Learning for the YMCA of Metro Atlanta, Andria McMichael, Ed.D., leads the Association's effort to provide best-in-class early learning environments for Atlanta's children and families. With direct responsibility for signature programs, Read Right from the Start, STEAM, Start for Life and Early Learning Readiness, deployed across 7 counties and 13 Early Learning Centers, her work includes a focus on driving programmatic quality, consistency, growth and innovation; business and partnership development; oversight of curriculum and content development; and public representation of and advocacy for the YMCA's Early Learning work and achievements.
Andria joined the YMCA in 2019 from Fairfax County Public Schools in Fairfax, Virginia, where she was the Leadership Development Specialist, after having the role of Regional Director for the Imagine Schools of Maryland in Prince George's, Maryland. In addition, she has served as Course Evaluator in the Curriculum and Instruction Department at Western Governors University; as Adjunct Professor for the Center of Urban Education at the University of the District of Columbia, in Washington D.C.; as Mentor for the Educational Leadership and Administration program at George Washington University, in Washington D.C.; and as Assistant Professor of the College of Education at Shorter University in Rome, Georgia.
Earlier in her career, Andria worked with the DeKalb County School District in a number of roles, including as Title 1 Instructional Coach, Teach Support Specialist, SACS School Internal Facilitator and Second Grade Teacher. Additionally, she served as Outreach Science Coordinator, Instructor and Summer Teacher with SCITREK (Science and Technology Museum of Georgia), in Atlanta, Georgia.
Andria graduated with a Bachelor of Science in Education in Child Development, from Spelman College, in Atlanta, Georgia; with a Master of Arts in Education in Curriculum and Instruction from Central Michigan University, in Mt. Pleasant, Michigan; received a Masters Level Educational Leadership Certificate (DELTA Cohort) from Georgia State University, in Atlanta, Georgia; achieved a certification in Advanced Educational Leadership from Harvard University, in Cambridge, Massachusetts; and obtained her Doctorate of Education (Educational Leadership) from Argosy University in Atlanta, Georgia.
Andria has recently moved back to the Atlanta area and enjoys spending quality time with family and friends, traveling, attending sporting events and networking to meet new people.