Serving more than 65 metro Atlanta elementary schools, Y Afterschool offers academic assistance, outdoor activities and Imagination Stations focusing on social-emotional learning, career exploration, life skills, STEAM activities, arts & crafts, and more!
Y Afterschool features topic-focused clubs where kids can spark their passion – including STEAM, Book Club, Art Club, Sports Clubs and more!  
To better serve you, the Y has two exciting afterschool programs available: Traditional Y Afterschool & 21st Century Afterschool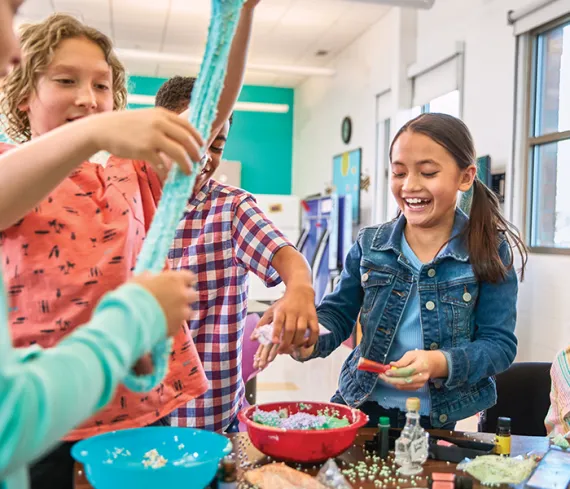 Traditional Y Afterschool Programs
Traditional Y Afterschool Programs include a recently reimagined curriculum that is innovative, learner-centered, and includes programmed activities, club activities, and imagination stations to align with the YMCA's strategic plan goals for career awareness and skill building for grades K through 5.
Using monthly themes, afterschool participants engage in activities tied to career awareness that allows children to gain critical skills needed for future success in school and in the workforce. Y afterschool programs support language and literacy, particularly for K - 3rd graders, as well as offering a focus on STEAM activities. Financial literacy programs are also included at all afterschool sites.
Y Afterschool At-A-Glance
Homework/Academic Enrichment: K-2nd grades for 30 minutes and 3-5th grades for 45 minutes.
Snack & Social: Meet, Greet, and Eat! Nutritious snack provided daily.
Imagination Stations: Themed stations full of materials to explore, create and discover.
Free Play: Outdoor/indoor social recreation & play time daily.
Weekly Activities: Monthly-themed, hands-on activities that incorporate STEAM, literacy, social/emotional learning & character development.
Open to YMCA Facility Members & Program Members in Pre-K through 8th grade
Y Afterschool Programs are offered Monday to Friday from school dismissal to 6:30 pm when school is in session
Full-time and part-time options are available.
YMCA Afterschool is a CAPS provider.
Financial assistance is available. Click here to learn more.
21st Century Afterschool Program
We offer 21st Century Afterschool programming at the following locations in Fulton County:
Brookview Elementary School
Hapeville Elementary School
Parklane Elementary School 
Lake Forest Elementary School
If your child attends one of these schools and you would like to see if they are eligible to attend Y-Achievers Afterschool, please contact Keisha Scott – KeishaS@ymcaatlanta.org.
Y Afterschool Programs help your child...

Grow Their Desire to Learn
Through new activities, exciting afterschool clubs and interesting topics, learning becomes fun - something to get excited about.

Gain Critical Thinking Skills
STEAM activities, study assistance and learning new healthy habits all help kids to enhance their cognitive powers at Y Afterschool!

Enhance Social Emotional Skills
Focusing on social emotional learning, the Y helps kids understand how feelings affect behaviors and how to handle big feelings.

Improve Motivation & Mastery
Building confidence and self-esteem helps motivate kids, improve school performance, and increase potential to attain academic success.
My daughter LOVES the Y Afterschool program. I like that she has an opportunity to play outside and use her imagination during Afterschool. She is in first grade and I'm not as concerned with her doing homework after school as I am with her being active, having fun, and interacting with other children.
Y Afterschool Parent
Type of Afterschool locations
YMCA Branch Locations: In our Y branch afterschool, the Y picks up from local elementary schools and transports back the YMCA. Parents will pick up their children at the YMCA.
Onsite at Local Schools: The YMCA offers Afterschool at several onsite school locations at participating school districts - Fulton County Schools and Gwinnett County Schools.
Andrew & Walter Young Family YMCA
Schools (program on site):
College Park
Hamilton E. Holmes
Palmetto
Buses to the Y from:
Bunche Middle
Cascade
Continental Colony
Deerwood
Finch
L.O. Kimberly
Rise
TAG
Young Middle
Arthur M. Blank Family Youth YMCA
Centennial Academy
Kindezi Old 4th Ward

Buses to the Y From:
Centennial Academy

Program Held at School
Kendezi at Old Fourth Ward
Cowart Family YMCA
On-site at school:
Dunwoody Springs
High Point
Woodland

Buses to the Y from school:
Montgomery
Covington Family YMCA
Buses to the Y from:
NCTS
East Newton
East Lake Family YMCA
Program held at school:
Ivy Prep Academy
Ed Isakson/Alpharetta Family YMCA
Abbotts Hill Elementary School
Barnwell Elementary School
Birmingham Falls Elementary School
Cogburn Woods Elementary School
Creek View Elementary School
Dolvin Elementary School
Esther Jackson Elementary School
Findley Oaks Elementary School
Hembree Springs Elementary School
Hillside Elementary School
Manning Oaks Elementary School
Medlock Bridge Elementary School
Mimosa Elementary School
New Prospect Elementary School
Northwood Elementary School
River Eves Elementary School
Shakerag Elementary School
State Bridge Crossing Elementary School
Summit Hill Elementary School
Sweet Apple Elementary School
Vickery Mill Elementary School
Wilson Creek Elementary School
J.M. Tull-Gwinnett Family YMCA
Buses to Y from School:
Cedar Hill
Craig
Jenkins
Lawrenceville
Pharr
Simonton
Starling
Winn Holt

Program Held at School:
Benefield
Lovin
Mulberry
Cooper
Robert D. Fowler Family YMCA
Buses to the Y From:
Peachtree
Simpson
Berkley Lake

Programs Held at School:
Graves
Nesbit
Stripling
Summit Family YMCA
Buses to the Y from:
Jefferson Parkway Elementary
Newnan Crossing Elementary
Welch Elementary
White Oak Elementary
Villages at Carver Family YMCA
Buses to the Y from:
Dunbar Elementary
Wesley International Academy
Slater Elementary
Wade Walker Park Family YMCA
Buses to the Y from these schools:
Champion Theme Middle
D.A.T.E. Academy (Grades K-8)
Dunaire Elementary
Princeton Elementary
Redan Elementary
Rockbridge Elementary
Shadow Rock Elementary
Stephenson Middle
Click here for a printable version of the locations list in English and Spanish.
Y Afterschool Program follows the school district calendar and will operate on days school is in session.
Monday - Friday, time of dismissal until 6:30 pm *some locations close at 6 pm.
Most Y Afterschool Programs are for kids K – 5th Grade. However, some programs provide care for Pre-K and middle school (GCPS)
All Afterschool registration can be done online by clicking the button at the top of this page. Or, you can register in-person at your Y except for IAY which is online only. Please reach out to your Y for assistance.
Registering for Afterschool is a commitment from the first day of enrollment until end of the school year. The first week or month and a deposit of $1 for each future month is required at the time of registration for each future month.
Afterschool payment will be set up at time of registration for auto charge or invoicing. Monthly Tuition is based on number of weeks in the month. There is an option for monthly and/or weekly payments. All payments are due two weeks prior month/week tuition.
A two week written notice must be received at the Y Branch in order to withdrawal from afterschool program.
For any questions or help, please reach out to your Y's specific point of contact..
We believe every child and family should have the opportunity to participate in any Y program. Those not able to pay the full fee may be awarded partial financial assistance based on their ability to pay and the Y's ability to fund the subsidy.
The YMCA also accepts third party payment from other organizations that help families in need. Many of our Y locations currently accept DFCS (CAPS) payments. Please contact your local branch and case worker first before enrolling your child in Y Day Camp.
To begin an application for financial assistance, please contact the branch program director.
Before first day of attending afterschool, all campers must provide...
Completed Registration Packet
Copy of your child's shot records on the school health form (3231)
Parent/Guardian notification of child's school of attending YMCA Afterschool Program
YMCA locations that offer Afterschool BY COUNTY
DEKALB COUNTY
East Lake Family YMCA's Youth & Teen Development Center
1765 Memorial Drive SE, Atlanta, GA 30317
Wade Walker Park Family YMCA
5605 Rockbridge Road, Stone Mountain, GA 30088
COWETA COUNTY
Summit Family YMCA
1765 East Hwy 34, Newnan, GA 30265
FULTON COUNTY
Andrew & Walter Young Family YMCA
2220 Campbellton Road SW, Atlanta, GA 30311
Arthur M. Blank Family Youth YMCA
555 Luckie Street, Atlanta, GA 30313
Carl E. Sanders Family YMCA at Buckhead
1160 Moores Mill Road, Atlanta, GA 30327
Cowart Family YMCA
3692 Ashford Dunwoody Road, Atlanta, GA 30319
Ed Isakson/Alpharetta Family YMCA
3655 Preston Ridge Road, Alpharetta, GA 30005
The Villages at Carver Family YMCA
1600 Pryor Road SW, Atlanta, GA 30315
GWINNETT COUNTY
J.M. Tull-Gwinnett Family YMCA
2985 Sugarloaf Pkwy, Lawrenceville, GA 30045
Robert D. Fowler Family YMCA
5600 W. Jones Bridge Road, Peachtree Corners, GA 30092
NEWTON COUNTY
Covington Family YMCA
2140 Newton Drive, Covington, GA 30014