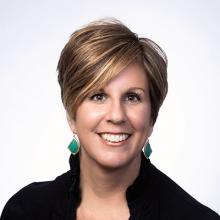 Kim Nelson
Senior Vice President of Program Development
Kim Nelson currently serves as Senior Vice President of Program Development for the YMCA of Metro Atlanta. Kim began her YMCA career in 2000 at the Ed Isakson-Alpharetta Family YMCA, as the children's services director. She was later promoted to the lead children's services director and then senior director – overseeing 24 afterschool sites and year-round camp programs. In 2007, Kim took on the role of Associate Executive Director at the Isakson-Alpharetta Family Y, prior to her move to the JM Tull-Gwinnett Family Y as Executive Director in 2012. In 2019, Kim was promoted to Group Vice President overseeing multiple YMCA branch locations and as well as afterschool programs for the association until October 2020 when she moved into her current role.
Kim Nelson received her bachelor's degree in psychology from Elon College in North Carolina. She has also received an award of "Professional of the Year" by the Metro Atlanta YMCA in 2007.
She is active in many community organizations like Rotary Club of Lawrenceville, where she served as the Community Service Chair. In addition, she served on the Gwinnett Coalition Board and was on the Executive Committee and served as Co-Chair of Glance Gwinnett, a Leadership Gwinnett program. Kim is a graduate of the 2016 Leadership Gwinnett Class and also serves on the Children's Health Care of Atlanta-Gwinnett Advisory board.
Kim has been married for more than 20 years to her husband Corey. They have three boys, ages 17, 15 and 12 who have grown up in the YMCA. She and her family have lived in Gwinnett for 24 years.