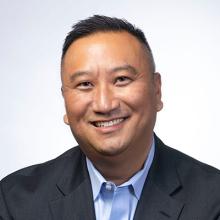 Paul Nguyen
Chief Financial Officer
Paul Nguyen is the Chief Financial Officer for the YMCA of Metro Atlanta. In this role, Paul leads the finance function and department for the Y and work across the organization to provide leadership and partnership to other departments, Y branches, early learning centers and program sites.
Paul has a strong command of financial management, business operations, and leading strategic organizational growth. Much of his strength as a finance and accounting leader comes from a combination of experience across a variety of distinct industries — from healthcare to technology to media. Prior to joining the Y, he served as Chief Financial Officer of Pillow Pharmahealth, and he also previously held finance leadership positions at Equifax, Cox Enterprises, McKesson and Warner Media.
Paul holds a Bachelor of Arts degree in Finance and Economics from the University of Illinois at Urbana-Champaign, an MBA from the Kellogg School of Management at Northwestern University and is currently pursuing an additional master's degree in Data Science and Analytics from the Georgia Institute of Technology.